Academic & Cultural Benefits
There's a phenomenon called cognitive mapping that as you get older your brain becomes more and more efficient at your first language and it is screening out all other sounds.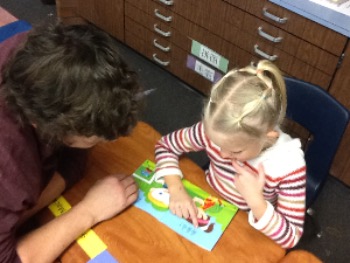 Decades of research have proven that young children who learn a second language in an immersion environment acquire and retain the new language more effectively than adult learners. Recent neurobiological research is beginning to tell us how and why. Research is also showing that in addition to the benefit of learning a new language, the cognitive development of immersion students is enhanced in multiple ways as they are learning more than just the language.
Some of these Benefits Include:
Second Language Skills: Students achieve higher levels of proficiency in the immersion language.
Performance on Standardized Tests: Immersion students perform as well as or better than non-immersion students on standardized tests for content areas, even when the tests are given in English.
Cognitive Skills: Immersion students typically develop greater cognitive flexibility, demonstrating increased attention control, better memory, superior problem-solving skills, as well as an enhanced understanding of their primary language.
Cultural competency: Immersion students are more aware of and generally show more positive attitudes towards other cultures and an appreciation of other people.
Long term benefits: Immersion students are better prepared for the global community and job markets where 21st century skills are an asset.
What do the Experts Say?
This is a choice for parents who really want to have this kind of language learning for their kids when they realize that they are going to be bilingual and biliterate coming out of elementary school.
It is probably the most effective way of learning a foreign language in the context of a school setting.
There is nothing to be lost academically or linguistically by involving children in learning a second language… We truly have parents knocking down our doors to make this accessible to our students.