Current Virtual and Past Recorded Events
Stay tuned for more upcoming virtual events!!!
PAST EVENTS
UVU Students Report on their UN Parallel Event Experience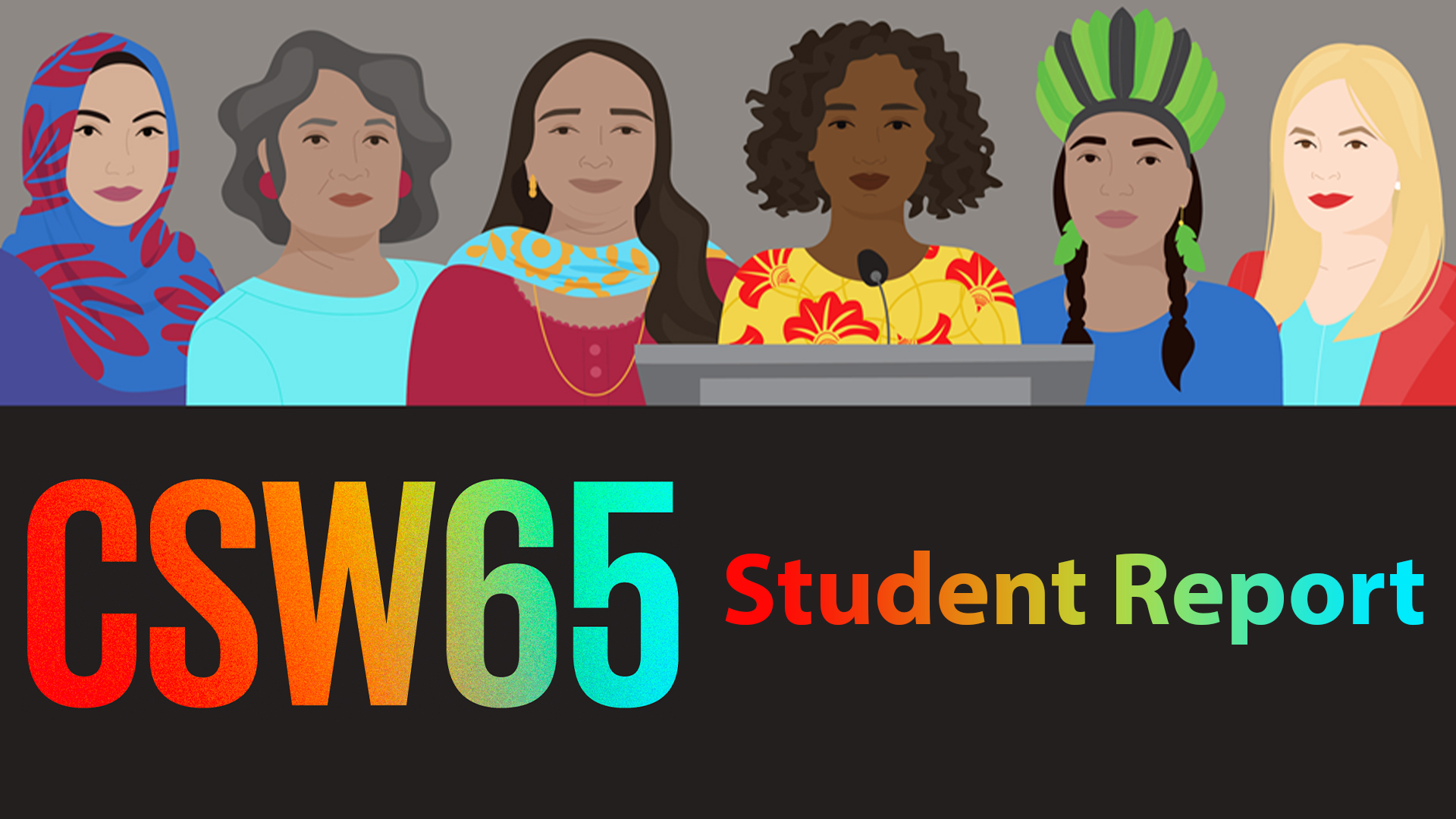 On April 14 at 12:00pm, students from the Utah International Mountain Forum (UIMF), a coalition of student clubs at UVU, presented their impressions and achievements gained from hosting a parallel event at the recent United Nations 65th session of the Commission on the Status of Women (CSW65). Their UN presentation was titled, "Mountain Women Empowerment Through The Inclusive Student Engaged Learning Model." The Student Engaged Learning (SEL) approach encourages students to gain professional skills while addressing real-world issues on the local and international levels with university faculty serving as mentors.
Watch the event virtually at www.facebook.com/uvugeo
RETURN TO PUTINGRAD – Putin's Response to the Navalny "Problem",  TUESDAY, APRIL 6, 2021
In the spring of 2018, Franz Sedelmayer spoke at UVU and presented excerpts from his  memoir "Welcome to Putingrad", highlighting the case he won against President Vladimir Putin and the Russian Federation.
On April 6, Sedelmayer made his "Return to Putingrad" for a virtual lecture and where he offered his perspective on Putin's answer to the Navalny "problem". Alexei Navalny returned to Russia this January after recuperating in Germany from being poisoned with a suspected nerve agent. The Kremlin has denied involvement. Navalny, one of Putin's most prominent critics, has recently been jailed for parole violations and is now in a corrective penal colony about 60 east of Moscow.
UVU professor of Integrated Studies & Russian, Dr. Frederick H. White, teaches a course on Russian political structures with a focus on Putin's rise to power and co-presented the event with Mr. Sedelmayer.
International Mother Language Day Celebration, February 22, 2021
Virtual Event marking International Mother Language Day hosted by the Office for Global Engagement at Utah Valley University.
Dr. Baldomero Lago - Chief International Officer UVU
Dr. Sayeed Sajal - Asst. Professor - Computer Science UVU
Meg Singer - Program Director Native American Initiative UVU
Dr. Michael Ballard - Asst. Professor - ASL & Def Studies UVU
Leone Saaga - Program Director Pacific Islander Initiative UVU
Languages, with their complex implications for identity, communication, social integration, education and development, are of strategic importance for people and planet. Yet, due to globalization processes, they are increasingly under threat, or disappearing altogether. When languages fade, so does the world's rich tapestry of cultural diversity. Opportunities, traditions, memory, unique modes of thinking and expression — valuable resources for ensuring a better future — are also lost.
At least 43% of the estimated 6000 languages spoken in the world are endangered. Only a few hundred languages have genuinely been given a place in education systems and the public domain, and less than a hundred are used in the digital world.
International Mother Language Day has been observed every year since February 2000 to promote linguistic and cultural diversity and multilingualism. The month of February was chosen in memory of university students in Bangladesh who were killed on February 21, 1952 while campaigning to officially use their mother language of Bengali.
Global Impact Projects with IsraAID,  November 4, 2020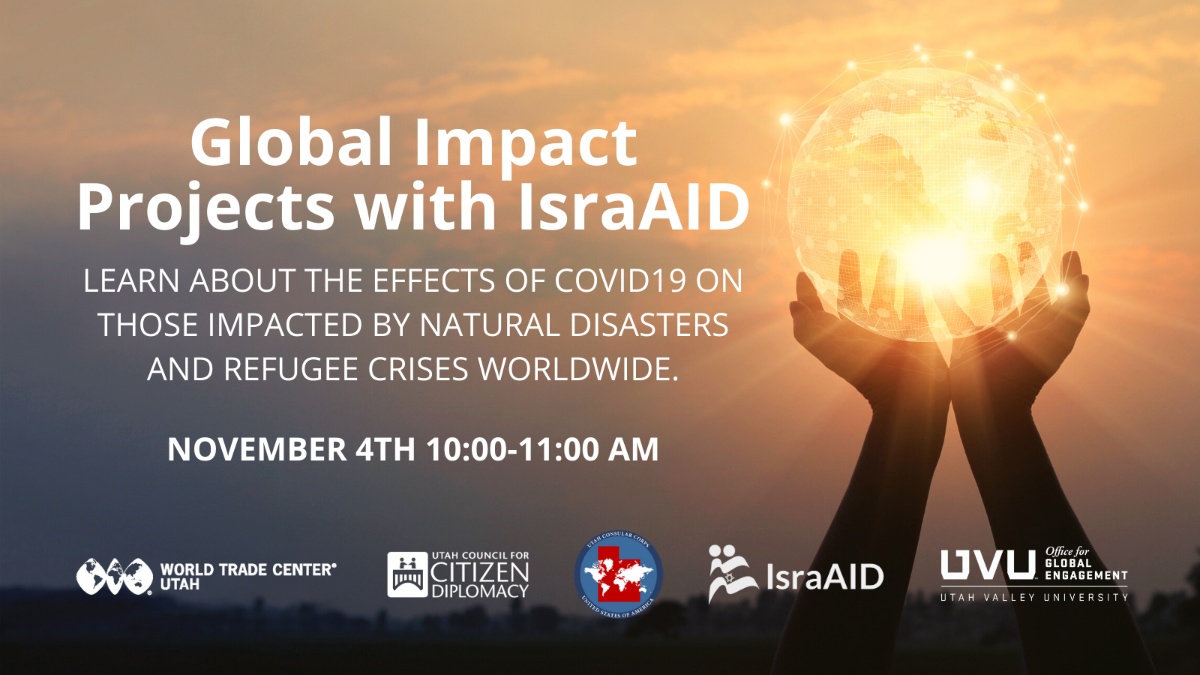 We encounter the daily health ramifications and anxieties of COVID19. But how does this global pandemic affect those already enduring other humanitarian crises, such as conflict, forced migration, or hurricanes?
Join World Trade Center Utah, Utah Consular Corps, Utah Council for Citizen Diplomacy, and Utah Valley University Global Engagement Office for a stimulating conversation on natural disasters and refugee crises worldwide, and COVID19's impact on populations affected by these crises.
What: Global Impact Projects with IsraAID
When: November 4 at 10:00 am
Guest Speakers:
Jorge Dennis
Jorge explored IsraAID's projects in Puerto Rico, including its water and psychosocial support projects, following Hurricane Maria on an exclusive mission for Latino leaders. He is president of the Salt Lake City based EnviroKleen LLC, and EnviroKleen Real Estate LLC, commercial building maintenance and real estate companies.
Theo Valaise
Theo is a junior at Stanford majoring in Bioengineering and Mandarin. This past summer, Theo completed Marine Corps Platoon Leaders Course at Officer Candidates School in Quantico, Virginia and plans to return in two summers.
Rachel Wallace
Rachel is the Director of Outreach & Engagement at IsraAID. She oversees IsraAID's community and university partnerships, programs, and events, and directs IsraAID's Humanitarian Fellowship. She had explored IsraAID's long-term projects in Guatemala and Puerto Rico.
World Polio Day Commemoration with Orem Rotary and UVU Rotaract, October 21, 2020
For a second year, the Office for Global Engagement is partnering with Orem Rotary and UVU chapter of Rotaract to bring awareness to the need to End Polio Now. This initiative directly supports the 2030 Agenda Sustainable Development Goal #3 which focuses on Health and Well-being for all at all ages.
World Polio Day was established by Rotary International over a decade ago to commemorate the birth of Jonas Salk, who led the first team to develop a vaccine against poliomyelitis. Polio is a crippling and potentially fatal infectious disease. There is no cure, but there are safe and effective vaccines. Polio can be prevented through immunization. Polio vaccine, given multiple times, almost always protects a child for life. The strategy to eradicate polio is therefore based on preventing infection by immunizing every child until transmission stops and the world is polio-free. The COVID-19 crisis has interrupted childhood immunization efforts globally. Measles and polio vaccination campaigns, in particular, have been badly hit, with suspended measles campaigns in 27 countries and suspended polio campaigns in 38 countries. https://unstats.un.org/sdgs/report/2020/goal-03/
Presenters:
Dr. Baldomero Lago, UVU Chief International Officer
Yana Andersen, UVU Rotaract Club President
Dr. Scott Leckman, Utah Rotary
Dean Robinson, Orem Rotary Club President
UN Civil Society Conference - Salt Lake City, Utah (2019)
Office for Global Engagement (including International Affairs & Diplomacy)