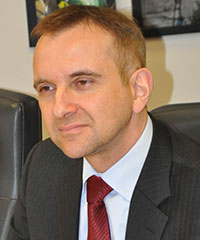 Mauro Battocchi, consul general of Italy, will be at Utah Valley University on Thursday, Nov. 29, to discuss "Italy 2013: Snapshot on a Country in Transition." The lecture begins at 1 p.m. in UVU's Liberal Arts building, room 208. This event is free and open to students, faculty, staff and campus guests. 
"In the midst of its own economic recession, which has brought unemployment rates to as high as 10.8 percent, Italy, like most of the European Union, faces an uncertain future," noted Rusty Butler, associate vice president for UVU's International Affairs & Diplomacy. "With an impressive education in economics and public policy along with a vast amount of experience in international business and foreign affairs, Mr. Battocchi will provide our students with unique insights into the politics, economics and cultural trends of a country at the heart of a changing Europe."
Battocchi has been Italy's consul general in San Francisco since September 2012. A foreign service officer specialized in economic issues, he worked in the private sector at Enel, a multinational power company, in international governmental affairs.
Previously, he headed the desk for trade and investment promotion at the Italian Ministry of Foreign Affairs in Rome, supporting the internationalization of Italian firms abroad. He was also the head of the economic section of the Italian Embassy in Tel-Aviv and served at the financial section of the Italian Embassy in Germany, taking part in the negotiations for the start of the European Monetary Union.
Battocchi graduated in economics at Bocconi University in Milan, and received a master's degree in public policy at Princeton University's Woodrow Wilson School of Public and International Affairs.
Click here for more information on Mr. Battocchi and his country of Italy.