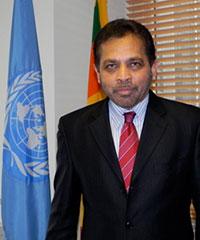 The ambassador of Sri Lanka to the United Nations, Palitha T.B. Kohona, will speak Nov. 1 at Utah Valley University.
The lecture, hosted by UVU's Office of International Affairs & Diplomacy, is titled "Sri Lanka Looks Ahead - Now to Win the Peace." The lecture begins at 10 a.m. in room SC 206g/h in the Sorensen Student Center. 
"Despite enduring the devastation of a recent 25-year civil war, Sri Lanka has shown remarkable resilience by developing one of the most robust economies in Southern Asia and cultivating what today is considered the oldest democracy in the region," said Rusty Butler, associate vice president for International Affairs & Diplomacy. "In fact, Sri Lanka was the first country in the world to elect a female head of state in 1960."
Kohona served as the secretary to the Ministry of Foreign Affairs of Sri Lanka until his appointment as permanent representative to the U.N. in New York. From 1995-2006 he served as chief of the Treaty Section, Department of Legal Affairs of the U.N. where he managed the computerization and online access to the U.N. Treaty Database consisting of more than 50,000 bilateral treaties and 530 multilateral treaties.
Prior to joining the U.N., Kohona was with Australia's Department of Foreign Affairs and Trade. In 1989 he was posted to the Australian Permanent Mission in Geneva with specific responsibility for environmental issues. He returned to Sri Lanka on the invitation of President Mahinda Rajapaksa to assume office as the secretary general of the Secretariat for Coordinating the Peace Process. He earned a doctorate from Cambridge University. Kohona, fluent in Sinhala, English and French, has published extensively on topics such as terrorism, international organized crime and the environment.
"It is an honor to host Ambassador Kohona, and I am confident that his vast experience on the subjects of terrorism and organized crime, will provide our students with valuable insights on the devastating impacts of war and the bright future that Sri Lankans now face moving forward," Butler said.
The lecture is free and open to the public.
Click here to learn more about Ambassador Kohona and his country of Sri Lanka.
Click here to view the Ambassador's presentation.

Ambassador Kohona speaks to UVU students and is distinguished as a UVU honorary professor by Dr. Butler
The Ambassador speaking at a dinner with UVU administrators