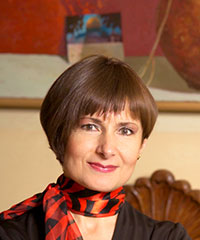 University Marketing & Communications: Mike Rigert, (801) 863-6807
Written by: Jim Rayburn, (801) 863-8504 
Utah Valley University's Office of International Affairs & Diplomacy is bringing Romanian Ambassador to the United Nations Simona Mirela Miculescu to campus on March 26 to talk on "Romania and Europe between challenges and opportunities".
Miculescu's lecture, free and open to the public, begins at noon in Room 213b of the Sorensen Student Center.
"Because of its size, location and history, Romania is one of the EU's most interesting and important countries," said Rusty Butler, associate vice president of UVU's Office of International Affairs & Diplomacy. "It is also a member of NATO and the WTO, making it a vital ally to the United States."
Miculescu was appointed Ambassador of Romania to the U.N. in June 2008. She served prior as director of Romania's Department for Communication and Public Diplomacy within the Ministry of Foreign Affairs. Twice in her 18-year diplomatic career she has served as the spokesperson for Romania's Ministry of Foreign Affairs.
Among her past positions she has served as senior media advisor, director of the Press Department, press secretary of the Romanian Embassy in Washington, D.C., senior public information officer for the Mission of the Organization for Security and Cooperation in Europe and foreign policy advisor to former Romanian president Ion Iliescu. She was the first woman in Romania's diplomatic history to be granted the rank of ambassador.
"Ambassador Miculescu is very engaging and will provide UVU students with a compelling look at her country and its people. We are honored to have her on campus," Butler said.
Click here to learn more about Ambassador Miculescu and Romania.