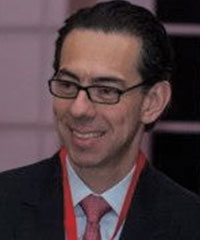 Mr. Ricardo Romero Talledo is currently Peru's Trade Representative on the West Coast of the United States. Mr. Romero has the responsibility to lead Peru's strategy and efforts in the western states to maximize the benefits of the recently enacted Trade Promotion Agreement signed between Peru and the United States. He is also a columnist of Expreso, a prominent Peruvian newspaper, where he has a weekly column, "Brújula Comercial", since 2003.
Mr. Romero was Chairman and CEO of Tradingconsult, a consulting firm that he founded in 2003, that provides advisory services to businesses and public institutions on issues related to strategic planning, project formulation and foreign trade issues on a global basis. From 2007-2008 he was Strategic Advisor for Business Development of PricewaterhouseCoopers, and from 2002-2003 served as Executive Director of Promperú, Peru's export promotion agency. He also served as Chief Executive Officer of Comexperu, Peru's leading trade business organization, from 2001-2002.
As appointee by three Presidents, Mr. Romero formerly served as Alternate Representative of the APEC Business Advisory Council from 1999-2004. As Peruvian representative to ABAC, interacted with the Heads of State of the 21 member economies, as well as with ministers of trade and Fortune Global 500 corporate leaders to discuss and propose policy changes to facilitate trade and investment liberalization in the Asia Pacific region according to WTO trade regulations. Had the responsibility to represent and defend Peru's national priorities and interests, through permanent lobbying and public relations work.
Mr. Romero has studies of law from the Universidad Complutense of Madrid, Spain. He was also educated at Chapman University, Houghton College, American University and the London School of Economics and Political Science. He has a B.A. in Political Science and International Economics, and a MSc in Management. And recently Mr. Romero has completed a program on trade policy at the Harvard University John F. Kennedy School of Government.
Peru's Brand Dossier - visit peru.info for more information.