Utah Valley University will host a delegation of five Tajik leaders participating in the Open World Program from Oct. 11-18 as they visit Utah to learn more about accountable governance with a focus on developing young government leaders. 
The delegation is scheduled to go on a tour of the UVU campus, to discuss political parties at the national and local levels and the role of public opinion with political science professors and to make a presentation to students from a political science class. While in Utah, the delegates will also meet with state representatives and senators, mayors and city councils of Orem, Provo and Lehi. Homestays with local residents will allow the delegates to experience American family life. They will also take part in several cultural and community activities.
"This delegation of key decision makers will have great influence among their peers while allowing our students and faculty to engage with them," said Rusty Butler, UVU associate vice president for International Affairs & Diplomacy.
The visiting delegates include: Mustafo Abdulloev, Senior Specialist, Ministry of Economic Development and Trade; Sayumar Davlatov, Chief Specialist, Department of Youth, Sports and Tourism, Municipality of Nurobod District; Naimjon Hikmatov, Chairman, Jamot Dehot Ghoziyon; Kuvvatullo Saadulloev, Deputy Head of Department/Head of State, Finance Department for Hissor District Budget Planning Unit; Dilshod Safarov, Chief Specialist, Ministry of Finance of the Republic of Tajikistan, Department of Tax Policy and State Revenue; and Maruf Kandikov, their facilitator.
Managed by the independent Open World Leadership Center at the Library of Congress, the Open World Program enables emerging Eurasian political and civic leaders to work with their U.S. counterparts and experience American-style democracy at the local level.
The Open World Program is a unique, nonpartisan initiative of the U.S. Congress designed to build mutual understanding between the United States and Eurasia. Over 18,000 Open World participants have been hosted in all 50 U.S. states since the program's inception in 1999. Delegates range from members of parliament to mayors, from innovative nonprofit directors to experienced journalists, and from political party activists to regional administrators.
For more information, please contact Marie Poudiougou at 801-863-7191 or at mariep@uvu.edu. For more information on Open World, please visit: http://www.openworld.gov/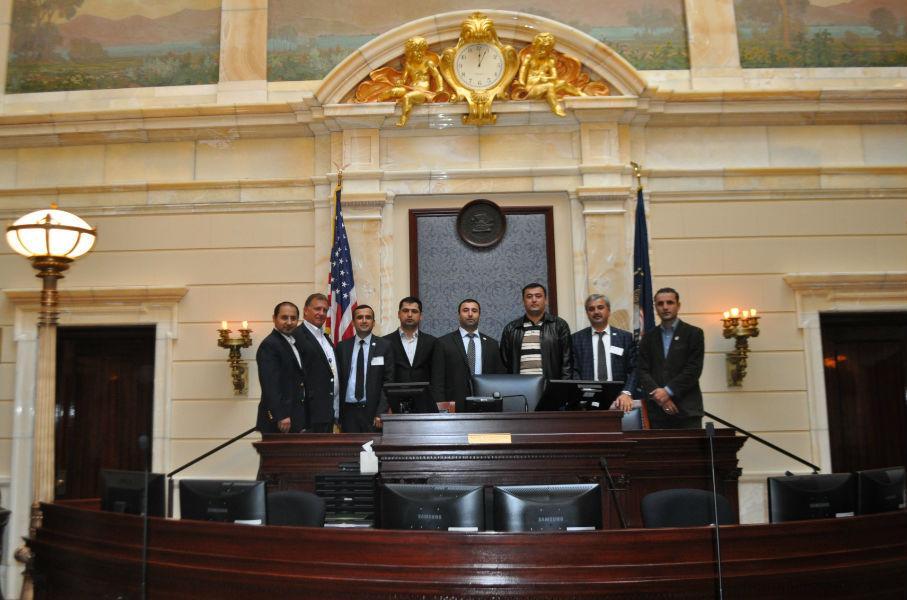 Senator Curt Bramble gives a tour of the Utah State Senate Chambers to delegates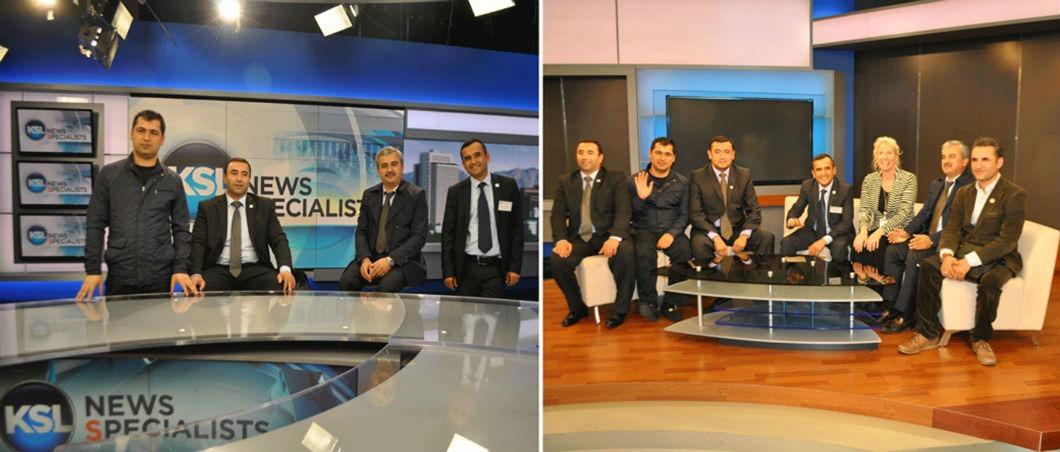 Delegates tour KSL Studios with radio host, Amanda Dickson