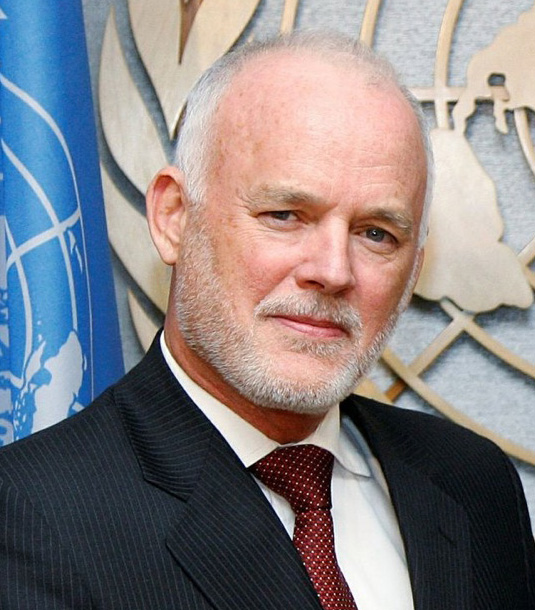 Utah Valley University's Office of International Affairs & Diplomacy will host Peter Thomson, ambassador to Fiji, on Monday, Dec. 7 at 3 p.m.. He will discuss why small-island developing states matter at the United Nations. 
"We are greatly honored to have Ambassador Thomson at our university," said Rusty Butler, associate vice president for UVU International Affairs & Diplomacy. "He comes to us with vast international business and diplomatic experience. We look forward to this opportunity for him to share his thoughts and insights on the recent U.N. General Assembly with our students."
Thomson began as Fiji's Permanent Representative to the United Nations in February 2010, also serving concurrently as Fiji's Ambassador to Cuba.
Thomson's previous experience includes holding office as the vice president of the U.N. General Assembly for the 2011-12 session and as president of the Assembly of the International Seabed. In 2013 he has chaired the United Nation's largest negotiating bloc, and served as president of the Executive Board of UNDP/UNFPA/UNOPS from January 2014 to January 2015.
The Office of International Affairs & Diplomacy actively supports UVU's global engagement efforts by advancing UVU's presence and prestige in the International community; helping UVU students become globally competent graduates; promoting cultural literacy and diversity both on campus and in the community.
The event is free and open to the public. It will be held in the Sorensen Center room 213a. For more information of Ambassador Thomson's visit to UVU, contact the Office of International Affairs at 801-863-7191.
Click here for more Information on Ambassador Peter Thomson.
Click here for Ambassador Peter Thomson's Article by Munkhbat Batmunkh from Utah International Mountain Forum.&nbsp
Click here for Deseret News article about Ambassador Peter Thomson.