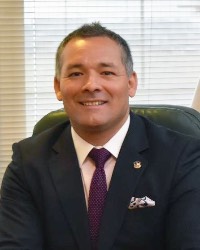 Dr. Jorge Luis Benjamin Romero Castro is from Peru. Dr. Romero is an International Coach & Team Coach, certified by the ICC –International Coaching Certification, London, England. And currently the Executive Director of Go American Coaching S.A.C. and Executive Director of the American Business School Company in USA. President of the Commission of Human Rights and Social Affairs for the Andean Region and President and Founder of the International Institute for Human Rights, Peru Chapter. 
He is a member of the Diplomatic Supranational Andean Parliament, The Commission of Migration of the Ministry of Foreign Affairs, The Commission of Social Affairs, Youth and Children of EUROLAT (Europe and Latin America), and Member of the Governor's Board of Operation Underground Railroad Organization of USA.
Dr. Romero is a leader in the areas of Motivation, Personal Development, Excellence and Leadership. Specialist in the Political Marketing, Strategic Marketing, Network Marketing, and Directional Strategist and Sales. He is a Political and Business Executives Advisor. Expert in FireWalking & Outdoor Coaching, certified as Facilitator of Experiential Learning with Basic Competence of Ontological Coaching.
He is also the Founder of the Master Business School S.A.C. and Master Training International S.A.C., Founder of FireWalking, Peru,
In his over 16 years of professional experience, he has trained over 2 million people, and has authored 4 books in personal growth.
Click here for Dr. Jorge Luis Benjamin Romero Castro's CV in Spanish.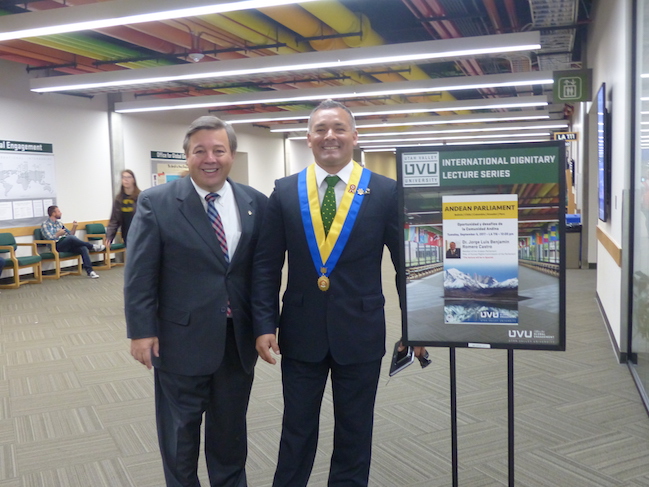 Dr. Romero Castro with Baldomero Lago, Chief International Officer.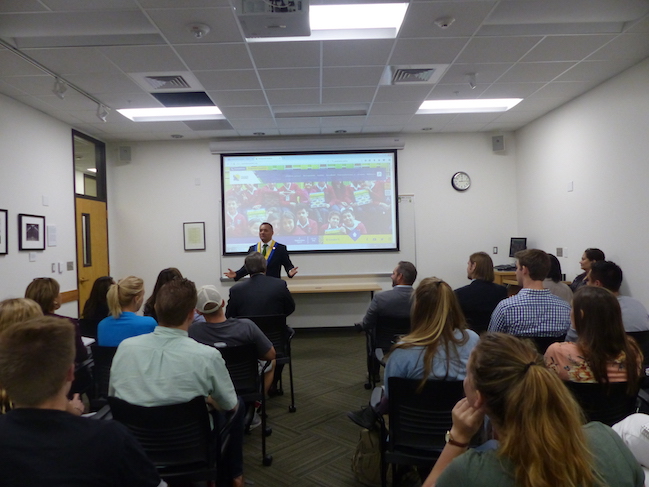 Dr. Romero Castro giving lecture to UVU students.
Dr. Romero Castro with UVU students and faculty.