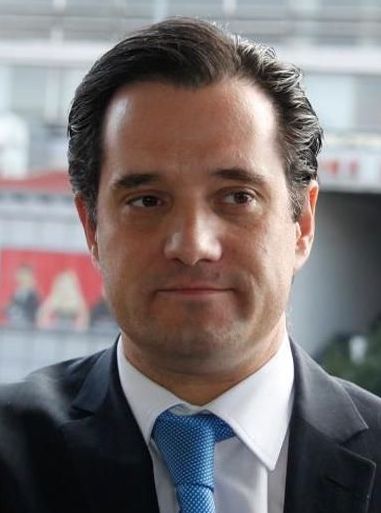 Mr. Adonis Georgiadis has been elected Member of the Parliament in the 2nd Electoral Constituency of Athens at the National Parliamentary Elections held in September 16, 2007, having polled 19.560 votes and becoming the highest vote-getter in his party's slate. Reelected MP in October 2009. He participates in the following Parliamentary Committees: the Standing Committee on Cultural and Educational Affairs, the Special Parmanet Committee on Greeks Abroad and the Inter-parliamentary-group Committee on National Affairs. 
In December 2003, he assumed the duties of Spokesman for LA.O.S. , a position he maintained till the 2007 Parliamentary Elections. His first nomination as a candidate for Parliament was at the March 7, 2004 Elections, he then received 10.650 votes, being the top vote-getter in his party's slate. However, at that time, he was not elected as Member of the Parliament, as LA.O.S. did not manage to surpass the 3% minimum threshold. At the 2006 Prefectorial Elections, he wa Candidate Prefect of Athens with the coalition "HYPER LAOU" ("For the People"), with Mr. Vaggelis Papadopoulos being the Candidate Supra- Prefect. The Coalition succeeded in being represented in the Prefectorial Councils of Athens and Piraeus and Mr. Georgiades was elected as first Alternate Prefectorial Councilor of Athens. To date, he has published over 700 books, mainly translations of works by Ancient and Byzantine Greek writers. He was the publisher of two magazines, namely "HELLENIKI AGOGI" ("Hellenic Education") and "HELLENON HISTORIA" (History of the Greeks"), in which he contributed with lots of articles. Since 1993, he is the director of "Georgiades" Publications. In 1994, he founded the Liberal Studies Center "HELLENIKI AGOGI", aiming at the learning of the ancient Greek language by children and grown ups, and, till his election, he was giving history lessons at the very centre. He is the writer of three books, the first is entitled "A GUIDE TO THE ANCIENT GREEK COINS", the second "HOMOSEXUALITY IN ANCIENT GREECE: THE MYTH COLLAPSING" and the third "THEODORA FRANTZI: THE CAPTURE". For many years, he hosted two dally television programmes, namely "HELLENON EGERSIS" ("Waking of the Greeks") at TELEASTY T.V. Channel and "HELLENIC EDUCATIONS" at BLUE SKY T.V. Channel. For one year, he hosted a weekly television programme for U.S.A. and Australia, broadcasted by Ant1 Sat and Ant1 pacific. In collaboration with RADIODIKTYO, 29 radio stations in Greece, Cyprus, the U.S.A. and Australia retransmit his weekly two-hour radio programme "PHONI HELLENIS" ("Greek Voice"). As an invited speaker, he addressed the Greek Homogeny of Munich, Germany, of London, U.K. of New York, U.S.A. and of Melbourne, Sydney and Brisbane, Australia.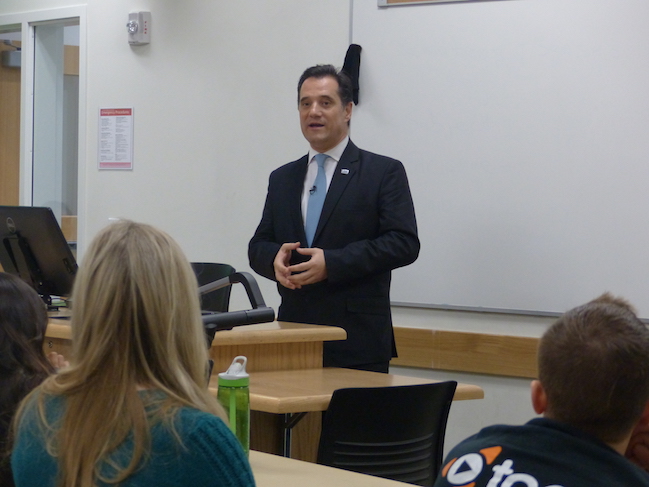 Mr. Adonis Georgiadis giving a lecture to UVU students.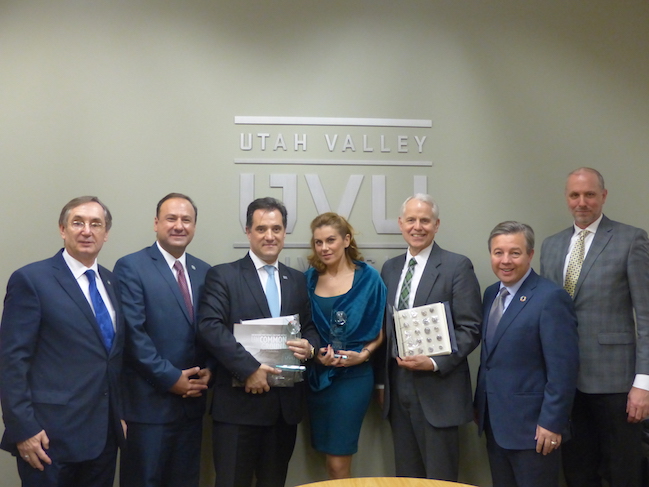 Mr. Adonis Georgiadis and Mrs. Eugenia Mandolides receiving Guest Professor awards from Senior Vice President, Jeff Olson.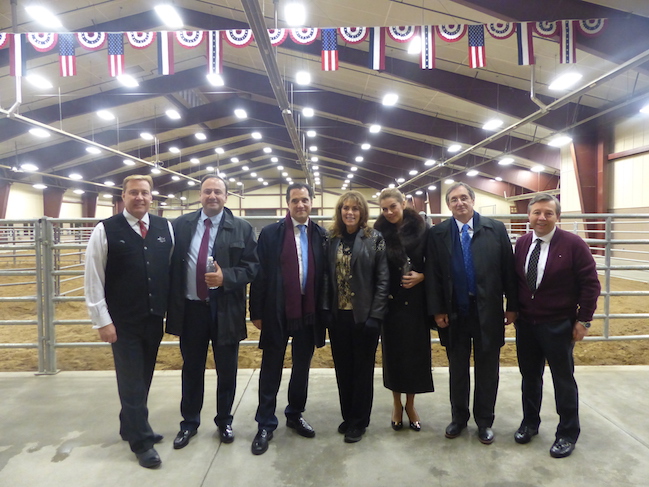 Dee Mower and Jim Williams hosting our Greek guests at their ranch in Hobble Creek Canyon.