CRFS welcomes both UVU and non-UVU researchers. We encourage a variety of research and creative work linked to the Colorado Plateau. CRFS helps support relevant projects by UVU researchers through our competitive grants program funded by our endowment, the Bill J. and Margaret M. Pope Colorado Plateau Field Institute Fund.
Small Mammal Ecology and Service Learning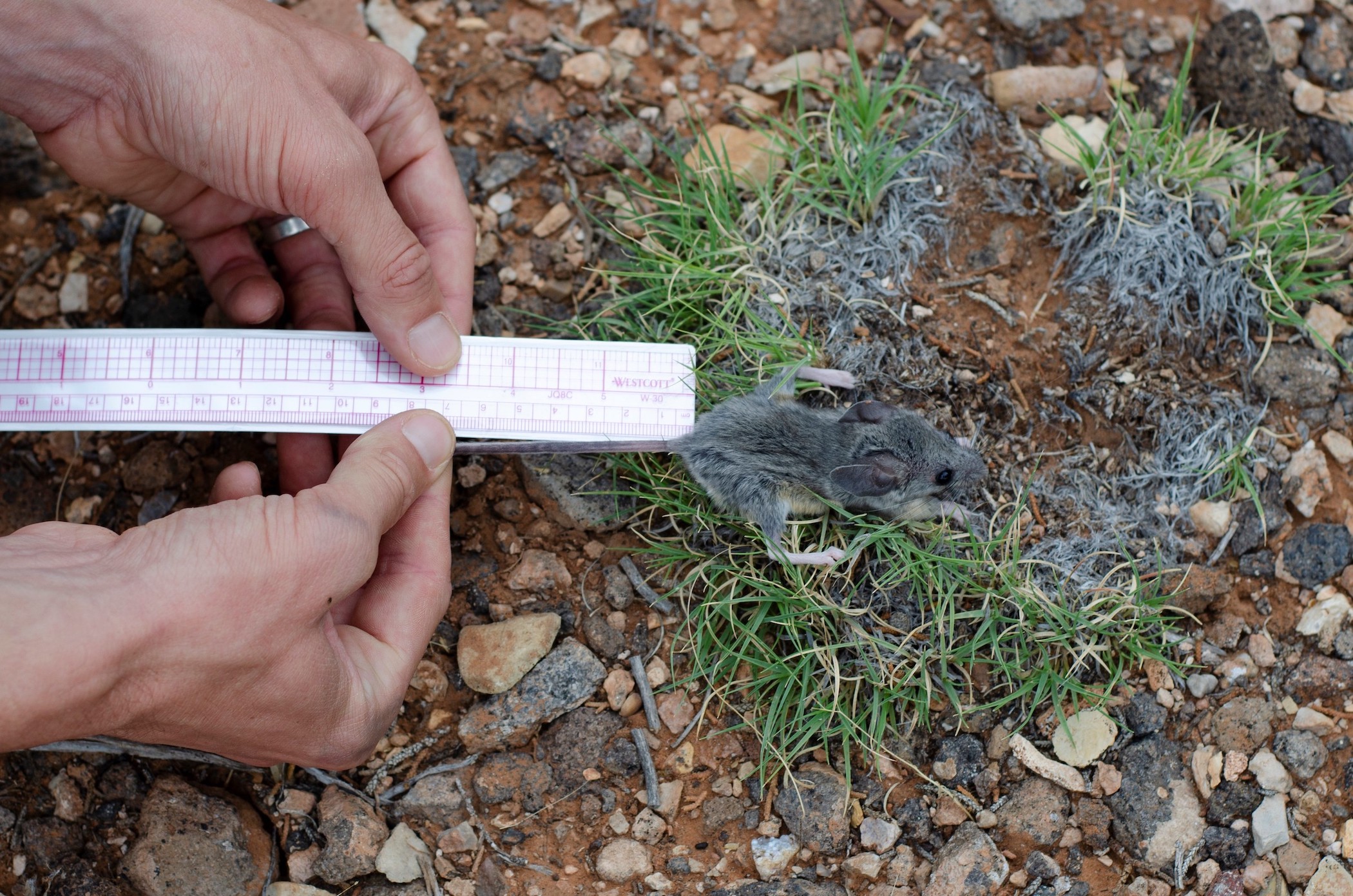 Joe Ceradini, CRFS site manager and research associate in the Biology Department, writes about his service-learning research project on small mammal ecology in Capitol Reef National Park.
"Capitol Reef Field Station and Capitol Reef National Park create the ideal context to provide students with service-learning experiences while simultaneously addressing research and management needs of the national park. We are live-trapping small mammals in order to better understand species diversity and population dynamics of these understudied species in the park. Small mammals influence multiple trophic levels and can serve as easy-to-monitor indicator species, making them an important component of many ecosystems. For example, small mammals help regulate plant communities through seed dispersal and seed predation, and are critical prey species for many predators, including reptiles, mammals, and birds. Small mammals in the park, primarily woodrat species, are the primary prey source for the federally threatened Mexican spotted owl (Strix occidentalis lucida), which is a park management priority species. Finally, small mammals may serve as indicators that reflect broader ecosystem changes due to factors such as climate change and invasive species.
"We conducted a pilot study this year to identify locations for trapping that are both easy to access from the field station (in order to maximize student involvement) and provide valuable small mammal biodiversity data. We have trapped small mammals in a variety of habitats in Pleasant Creek Valley, such as grassland, sagebrush, pinyon-juniper, and riparian. So far, we have set traps for a total of 217 trap-nights (number of nights x number of traps) and captured, tagged, and released eight small mammals, including deer mice, canyon mice, and woodrats. Feedback has been extremely positive from UVU students and professors that have participated. Participants learn first-hand about ecological research, small mammal ecology, and national park management. Trapping will be ongoing, creating many more service-learning opportunities, including opportunities for student independent studies."
Macrolichens
Research at CRFS led by Dr. Emily Holt of UVU's Biology Department has resulted in a published field guide entitled Macrolichens of Capitol Reef National Park and a presentation on lichens at the Entrada Institute. She shares:
"As part of a research-based field class, Dr. Emily Holt and 13 UVU students inventoried four sites within Capitol Reef National Park in September 2013 to search for macrolichens. They identified 234 collections representing 42 unique species. In a collaborative effort, they authored a professional-quality field guide of the lichens of the park. Using regional floras and the scientific literature, students: (a) wrote an introductory background about the different types of lichens and their uses; (b) created a taxonomic key to aid in identification of the lichen taxa we encountered; (c) wrote detailed species descriptions, including morphological and chemical characteristics and interesting facts about each species; (d) illustrated and/or photographed every species; and (e) prepared a complete glossary of relevant lichen terminology. Dr. Holt compiled all this work and hard copies of the guide were printed through UVU Printing Services (remaining copies available through eholt@uvu.edu). On 30 May 2015, Dr. Holt was invited to give a presentation on her work for the Entrada Institute in Torrey, Utah. She provided a brief history of lichens and their uses and shared some of her students' work on the field guide. She also gave an update on a current project stemming from the field work in September of 2013. Dr. Holt and three of the students from her 2013 Lichens and Bryophytes class have tentatively identified one of their collections as a rock-dwelling cyanolichen, Lichinella intermedia. The specimen was sent to a taxonomic expert in this group from Germany. If confirmed, this collection from Capitol Reef will represent the northern-most extent of this species and a state record. In addition, they are reviewing materials from this genus, the Rock Licorice Lichen, from several neighboring herbaria that was found in the Colorado Plateau/Great Basin region, to identify the general distribution of its circa ten species. They hope to prepare a manuscript on this work to be submitted to to a peer reviewed scientific journal."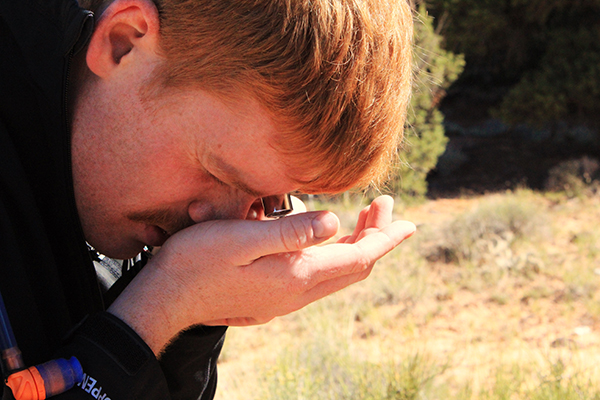 Optics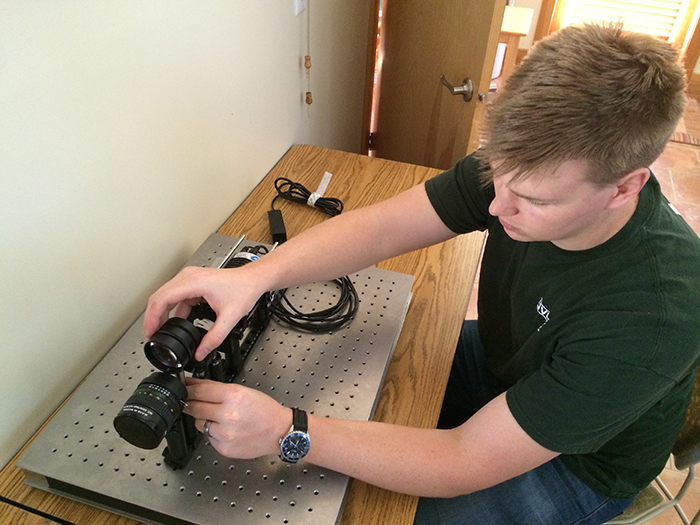 This has been a busy year for Dr. Kim Nielsen of UVU's Physics Department. He led multiple trips to the field station involving both research and class groups. He relates:
"This year presented several exciting and new activities for the high altitude research group as well as the Department of Physics involving the field station. In terms of scholarly activities, the major activities focused on testing existing and new instruments, while the instruments played key roles in curriculum through field visits to the site. The existing system hosted in the research trailer is a Keo Sentry airglow imaging system. While this system is designed for continuous data acquisition, software control and sporadic network have limited the use of the instrument in terms of transformative research. Instead, its main use was during two observation campaigns in PHYS 492R (Basic Space Plasma), where the class visited the field station over two weekends in Fall 2014. Both times the students set up the instrument with a variety of filters for specific observation goals and presented their findings by the end of the trip. The last trip also included final project presentations. At the beginning of the spring semester, Professor Nielsen was fortunate to be offered a state-of-the-art new airglow imaging system for testing during the year by Keo Scientific. The system was installed in early February and equipped with a hydroxyl(OH) narrowband filter to monitor the brightest airglow emission. During visits to the field station, the instrument acquired data to evaluate its capabilities and compare with existing systems. In early April, PHYS 1800 (Energy You and the Environment) engaged in an exciting field trip to the station where they learned about solar-powered systems, sustainable housing designs, and worked on course projects. The research highlight of the year was testing of a new low-cost airglow imaging system built by Professor Nielsen and four students in the research group. The system was brought down to the station in mid-April and the initial testing produced exciting data. This data set was presented at a world-leading conference in upper atmospheric research. All the activities had participation of students, and for the courses, the visits to the field station were listed as 'best college experiences.'"
Entomology
Dr. Heath Ogden has involved UVU undergraduates in research at CRFS over multiple years. Heath reports:
"The Ogden lab continues its multi-year insect research collecting efforts at Capitol Reef National Park. We are documenting the diversity of insects in order to produce species lists and a reference collection. This year we initiated research on the macroinvertebrates of two different stream systems within the Park, capturing diversity before and after flooding events. The Field Station serves as a "home base" for our research and the riparian habitat of Pleasant Creek has been extensively sampled. These projects are excellent examples of engaged and serious learning for students. The final goals consist of students presenting their research at scientific conferences and preparing manuscripts for publication."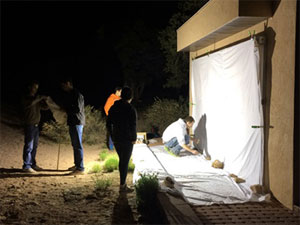 Ionosphere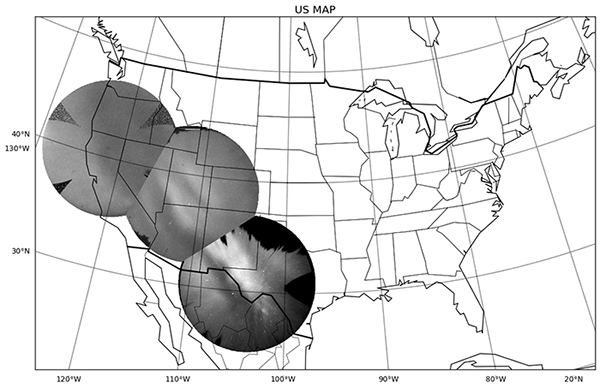 SRI International is an independent, non-profit research institute from Menlo Park, California. They are studying ionospheric waves using an all-sky camera they installed at CRFS. Dr. Asti Bhatt of SRI International writes:
"An all-sky camera imaging ionospheric airglow in the 630nm wavelength was installed at Capitol Reef Field Station in March, 2014 by a team from SRI International. This camera is part of a three camera network covering the U.S. west coast. The other two cameras are located at Hat Creek, California (operated by SRI) and at McDonald Observatory, Texas (operated by Boston University). The purpose of this network was to image large-scale processes in the earth's ionosphere."
"Ionospheric disturbances imaged by the airglow imagers can have origins in lower atmospheric sources (such as thunderstorms) or in magnetospheric sources (such as auroral storms). These disturbances often travel large distances that may cause problems in communication/navigation systems. Understanding the coupling of energy and momentum between various atmospheric regions is an active area of research. By creating a large field-of-view to observe the ionospheric processes, we plan to observe the generation, propagation and dissipation of these waves and thereby gain an understanding of the source mechanism behind the disturbances. This will help us eventually calculate the energy transfer between the atmospheric regions."
"In the time that the Capitol Reef camera has been operational, we have observed wave activity spanning all three camera fields-of-view (see image). We see northeast to southwest propagating waves related to an electrodynamic instability in the ionosphere known widely as 'Perkins instability.'"
"There was intense thunderstorm activity on July 31, August 17, and August 18, 2014 over northern Mexico extending up to Texas and other southern states in the United States. We observed waves propagating towards the northeast in the Capitol Reef imager field-of-view, and later connecting to phase fronts in the California imager field-of-view. We are currently working to publish these results as these are the first observations of ionospheric waves at 250 kilometers from thunderstorm origin."
Macroinvertebrates
Jake Loveless, a biology major at UVU, conducted an independent research project in Capitol Reef National Park under the direction of Dr. Heath Ogden. Jake shares:
"This past summer I conducted a survey on the macroinvertebrate assemblages of both Pleasant Creek, and Sulphur Creek. The purpose of the study was to compare the populations of the two streams to see if the macroinvertebrate functional feeding groups differed between the two sites, and to asses relative water qualities using literature on pollution tolerance by taxa. Samples were taken on five separate collection trips using kick nets, and early data analysis has shown a significant difference in the populations of the two streams, but very similar water qualities. CRFS was an invaluable tool throughout the course of my research. CRFS provides excellent research opportunities, not only in facilities, but in funding, as my study was completely funded through a CRFS undergraduate research grant."