Welcome to Computer Science
The UVU Computer Science department provides a broad range of programs that support students in many areas. Those programs can be examined in detail by following the links below. UVU is accredited by the Northwest Commission on Colleges and Universities (NWCCU) which applies to the university as a whole. Additional information on UVU's NWCCU accreditation and specialized accreditations/certifications is available at the university's accreditation site.
The Bachelor of Science degree in Computer Science is accredited by the Computing Accreditation Commission of the Accreditation Board for Engineering and Technology (ABET). 
Faculty members in the CS department represent years of experience in various related occupations and their academic credentials span an impressive variety of specializations. All members of the CS department work together to provide an educational experience designed to prepare graduates with the knowledge and skills required to succeed in the dynamic fields related to computer science.
Imperative of
Ethics & Conduct
The Computer Science department recognizes the need for an ethical standard that all computer science students should abide by. Students wishing to apply for admission to a degree program must read and abide by the declaration found by clicking the link below.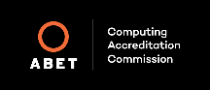 Computer Science Programs