UVU Programs in Support of the United Nations
The Office for Global Engagement organizes and promotes activities related to the United Nations on campus. Some of the events that UVU students have been involved in include leading Side and Parallel Events at the Commission on the Staus of Women at the UN Headquaters in NYC and promoting the 17 Sustainable Development Goals (SDGs) during United Nations Day. 
In November 2017, Utah Valley University became offically associated with the UN- DGC (United Nations Department of Global Communication ). This is the culmination of many years of work with partners here at the University and outside the institution. This new partnership will bring many new and exciting opportunities for students at UVU. 
On April 4, 2020, Utah Valley University was officially recognized as a member of United Nations Academic Impact. The Office for Global Engagement continues to be at the forefront of UVU's education and promotion of the 2030 Sustainable Development Goals. The United Nations Academic Impact (UNAI) is an initiative that aligns institutions of higher education with the United Nations in supporting and contributing to the realization of United Nations goals and mandates, including the promotion and protection of human rights, access to education, sustainability and conflict resolution. Since 2010, UNAI has created a vibrant and diverse network of students, academics, scientists, researchers, think tanks, institutions of higher education, continuing education and educational associations.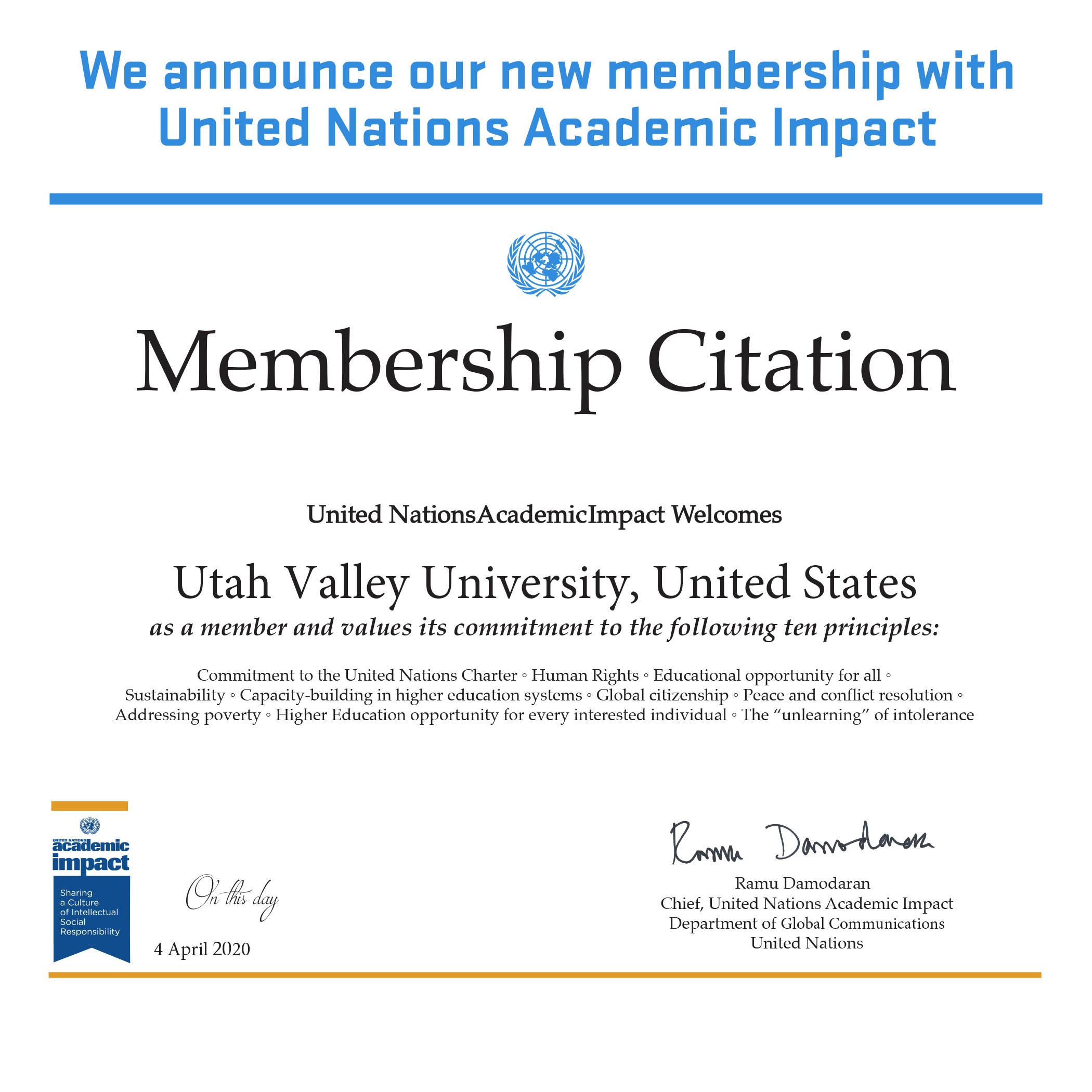 The United Nations is an international organization founded in 1945. It is currently made up of 193 Member States. The mission and work of the United Nations are guided by the purposes and principles contained in its founding Charter. Another important document is the Universal Declaration of Human Rights, a milestone in the fight for Human Rights everywhere.
Affliated Campus Organizations