The Office for Global Engagement organizes and promotes activities related to the United Nations on campus. Some of the events that UVU students have been involved in include leading Side and Parallel Events at the Commision on the Staus of Women at the UN Headquaters in NYC as well as promoting the 17 Sustainable Development Goals (SDGs) during United Nations Day on campus. 
Since November 2017, Utah Valley University has been an associate member of the UN-Department for Global Communications (formally Department of Public Information). This collaboration came about due to many years of work with partners here at the university and outside the institution. This new partnership brings many new and exciting opportunties for students at UVU. 
The United Nations is an international organization founded in 1945. It is currently made up of 193 Member States. The mission and work of the United Nations are guided by the purposes and principles contained in its founding Charter. Another important document is the Universal Declaration of Human Rights, a milestone in the fight for Human Rights everywhere.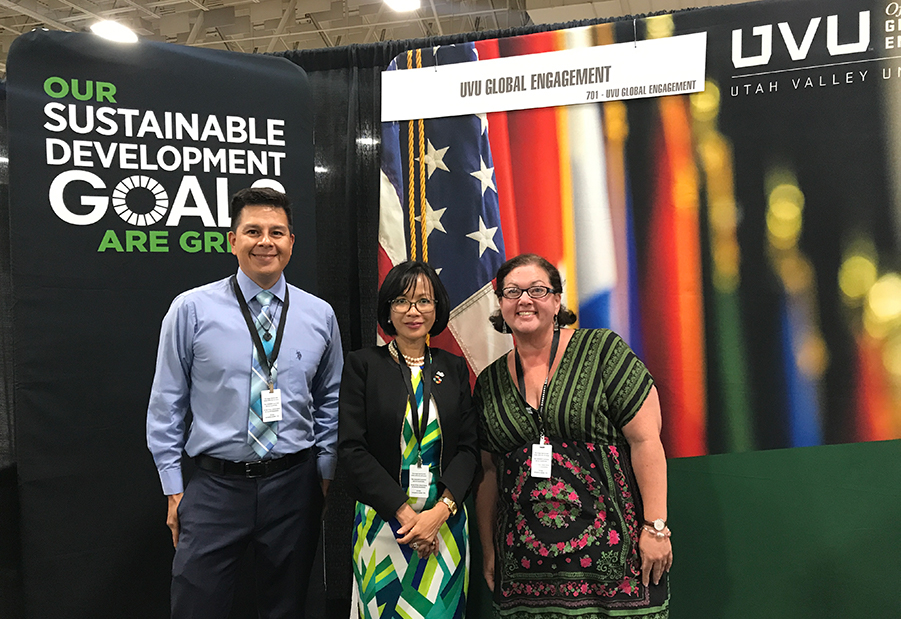 Carlos Alarco & Amy Barnett with UVU President Astrid Tuminez at the UN Civil Society Conference, Salt Lake City,  Aug 2019

The 17 Sustainable Development Goals - Please click on the image to find out more information