Accredited International Recognition through the Higher Education Academy (HEA)
The Higher Education Academy (HEA)
is an international, non-profit organization that promotes teaching excellence in higher education. HEA is a subsidiary of UK-based Advance HE. There are more than 115,000 HEA fellows in the world. UVU is the first American institution to be accredited by the HEA to offer fellowship recognition to faculty, administrators, and staff supporting learning. Fellowships are earned through written reflection and interaction with an HEA Mentor to demonstrate how one's teaching/supporting learning practices fulfill the dimensions of the UK Professional Standards Framework (PSF)
. The PSF is the heart of the HEA fellowship recognition program. This internationally recognized articulation of the necessary actions, values, and knowledge to effective teaching/supporting learning provides the framework for peer dialogue and personal reflection of practices.

How Do I Become an HEA Fellow? 
HEA fellowship provides external validation of teaching excellence, nurtures reflection about your teaching practice to enhance student learning, and ushers you into a global learning community. HEA fellowship enhances your teaching portfolio. There are two main paths to fellowship, either through the "Accredited Path" which is managed by UVU or through "Direct Application" to Advance HE. The paths are determined by the category of fellowship you seek and there are four categories of fellowship. You are encouraged to use the Fellowship Category Tool to determine which level of fellowship for which you are appropriately qualified:
Associate Fellow
This level of Fellowship is suitable for anyone who doesn't have an extensive teaching background, or who only teaches part-time (i.e. an Adjunct Professor). Associate Fellow is also suitable for anyone who supports student learning without directly teaching them (librarians, educational researchers, advisors, etc.)
Fellow
This level of Fellowship is suitable for anyone who is within their first three years of full-time teaching, or who has a solid teaching background in higher education.
Senior Fellow
This level of Fellowship is suitable for anyone who has a solid teaching background and who has done significant work to develop others or lead key initiatives within the institution.
Principal Fellow
This level of Fellowship is suitable for a select few who have instigated significant change in teaching and learning within the institution and beyond.
Accredited Path
Associate Fellow, Fellow, and Senior Fellow Categories:The application contains three components: 1) A self-assessment, 2) A certificate of completion for three TEP workshops, 3) a reflective document called the Account of Practice for Teaching and Supporting Learning (APTSL), and 4) two reference letters. Once each semester, applications are received and reviewed by UVU's HEA Assessment Panel. Qualified candidates are awarded fellowships by UVU's HEA Assessment Panel.

Direct Application Path
The Principal Fellow application contains written reflection, case studies, a Record of Education Impact and a Reflective Account of Practice. Applications are submitted directly to Advance HE and UVU pays the application fee.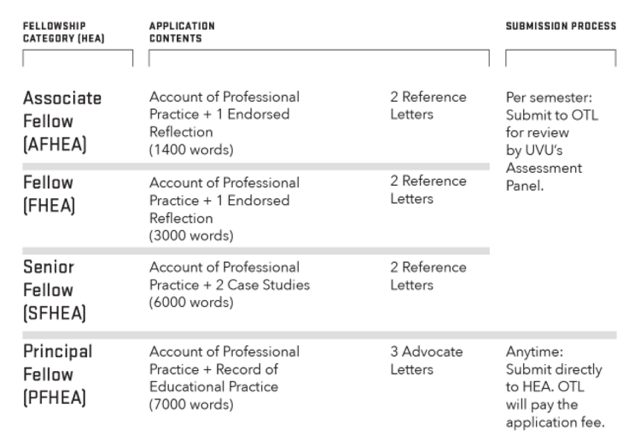 Applicants are supported by HEA Mentors who are qualified HEA fellows. The mentor will guide the applicant through the fellowship writing process through dialogue and, if desired by applicant, review of teaching and/or curriculum. Applicants are encouraged to involve the mentor in reviewing a draft of the fellowship application to ensure it properly evidences PSF criteria at the level of rigor inherent in the sought-after category of fellowship.
You can request an HEA Mentor to support you in the fellowship writing process by completing the form below.
Resources
General Resources and Forms
Resources By Fellowship Category
| | | | |
| --- | --- | --- | --- |
| Fellowship Category | Guidance Document | Example Applications | Forms |
| AFHEA | | | |
| FHEA | | | |
| SFHEA | | | |
| PFHEA | |   | |
Assessment Cycles 

(Accredited Routes)
Fall Cycle
| | |
| --- | --- |
| Deadline for submissions | Beginning of November |
| Distribution of submissions to assessors | Mid-November |
| Initial judgments reported to Coordinator | End of November |
| Moderation | Beginning of December |
| Assessment Panel | Second week in December |
| Notifications | Third week in December |
Spring Cycle
| | |
| --- | --- |
| Deadline for submissions | Mid-March |
| Distribution of submissions to assessors | End of March |
| Initial judgments reports to Coordinator | Beginning of April |
| Moderation, if needed | Mid-April |
| Assessment Panel | End of April |
| Notifications | First week in May |
Summer Cycle
| | |
| --- | --- |
| Deadline for submissions | Beginning of July |
| Distribution of submissions to assessors | Mid-July |
| Initial judgment reports to Coordinator | End of July |
| Moderation, if needed | First week in August |
| Assessment Panel | Second week in August |
| Notifications | Third week in August |