Teaching Excellence Program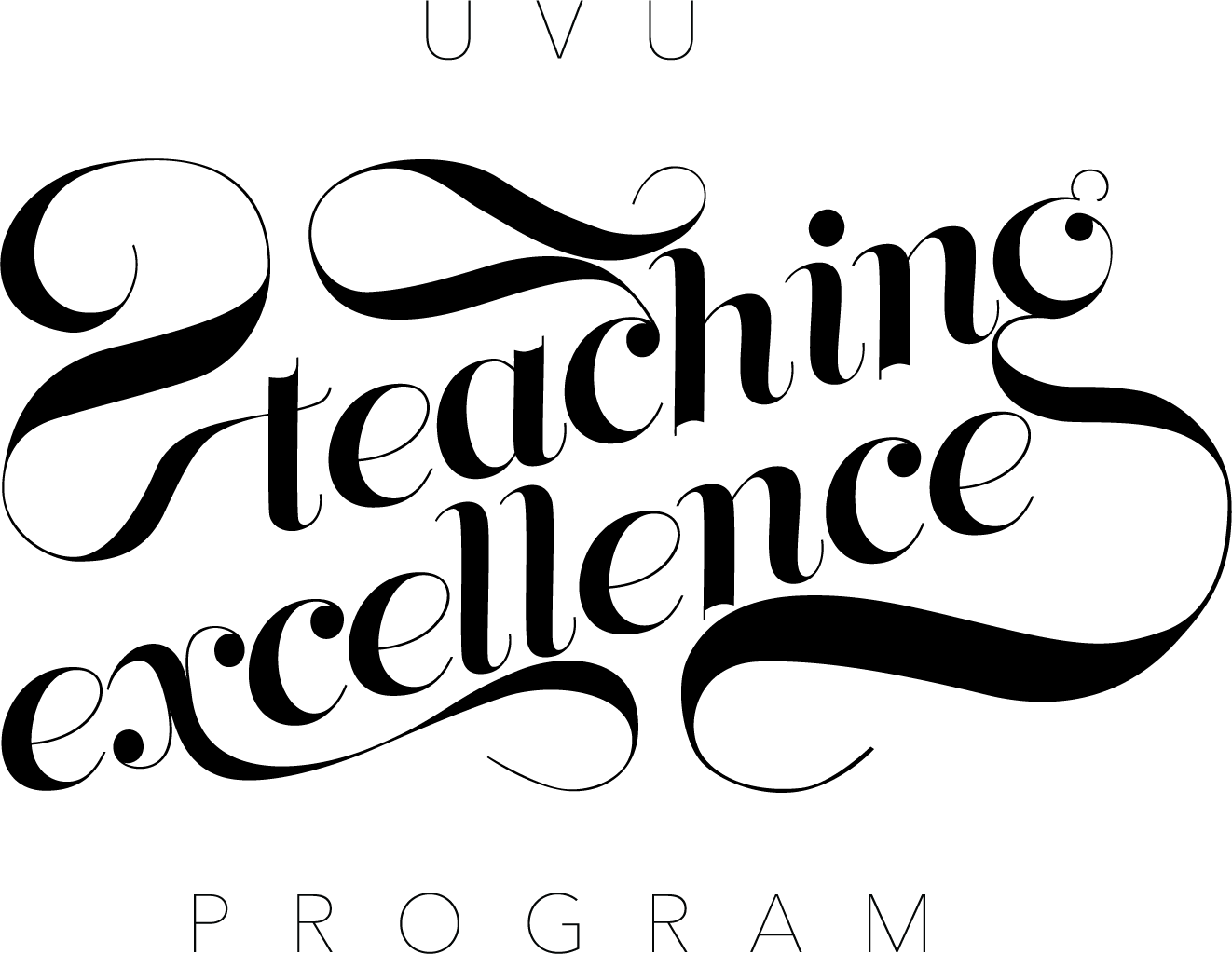 The Teaching Excellence Program includes faculty development opportunities that lead to certification and international recognition for teaching excellence. By engaging with these opportunities, UVU faculty can gain evidence to support the Retention, Tenure, and Promotion (RTP) process while enriching their teaching practice.
Earn a certificate of completion by participating in the workshops within a certification path. You will receive a non-credit, internal certificate from the Office of Teaching and Learning in the form of a PDF which can be downloaded. For HEA fellowship, only three workshops need to be completed; you must write a reflection at the conclusion of each workshop.
Teaching Excellence Program
Getting Started
Faculty JumpStart Orientation
This course is for new full-time and adjunct faculty. It includes information on employee email, parking permits, UTA passes, UVID cards, and payroll. It also includes information about policies related to teaching, myUVU, media enhanced classrooms, testing services, and library services for faculty. It takes about 1.5 hours to complete.  Click below to self-enroll in the Canvas course.
Canvas Skills for Faculty
Learn and practice the fundamentals of the Canvas learning management systems, including building assignments, using the gradebook, and posting files for students.
First Year: All Aboard
The All Aboard series of workshops is designed specifically for the onboarding of new UVU faculty. Throughout the year, monthly sessions will be offered with a complimentary light lunch. Themes range from Canvas, media services, shared governance, suicide prevention, ombudsmen, accessibility, global-intercultural, service learning, and more.
Teaching Workshops/Conferences
FlexStudio
FlexStudio is a self-paced, six-hour workshop to cover the fundamentals of designing an online or hybrid course. Faculty should have a specific course in mind as they start Flex Studio.
Please contact Seth Gurell at Seth.Gurell@uvu.edu for more information about signing up for FlexStudio. 
Learning Circles
Learning Circles are small communities of faculty that meet on a regular basis during a single semester. Each community reads a particular book or set of articles on learning and teaching and discusses the book during their sessions. Learning Circles are open to all full-time and adjunct faculty. All participants receive a Certificate of Participation for their Faculty Portfolio.
Books are provided to each participant by the Office of Teaching and Learning.
View this semester's offerings on our events page. 
POET
The OTL's POET Pyramid Program allows faculty to gain new perspectives and insights into their teaching through a completely non-evaluative process. It works through a process of reciprocal classroom observation and self-reflection.
Each POET Pyramids unit consists of two to four faculty members, preferably three faculty who are from different disciplines and work together for a semester. These faculty visit each other's classes and then meet and discuss, through a guided process, what they've learned from the observations.
 For information on signing up, please contact Ursula Sorensen at sorensur@uvu.edu 
SCOTs
The Student Collaborators on Teaching  (SCOT) program enhances student learning by providing instructors feedback from an informed student perspective. SCOTs strive to contribute to the culture of engaged teaching and learning excellence at UVU through faculty-SCOT partnerships that promotes exploration of teaching practices.
For more information, please visit our SCOT page.
Global-Intercultural
Cultural Identity in the Classroom
This workshop allows you to explore how to interrelate respectfully with individuals representing cultures and perspectives other than one's own. Analyze the basic curricular, pedagogical and personal components of multicultural education.
Culturally Relevant Pedagogy
Global & Intercultural Pedagogy
In this workshop, participants will analyze global and intercultural issues. Participants will assess types of materials to include in the course and create activities to increase student understanding of the issues.  
Large Section Teaching
"Teaching Large Classes Across Modalities" provides theoretical and experiential practice in: using instructional design methodology, promoting student engagement in large classes, developing effective assessments and collaborative learning projects, integrating technology in large classes, and identifying strategies for effective grading and giving feedback.
Interactive Lecturing
The second session of the Teaching Large Classes Series is designed to explore the ways to promote student engagement in large classes and to identify some concrete cooperative learning activities.
Pedagogies and Strategies
This session of the Teaching Large Classes Series is designed to highlight some pedagogical theories that center around how people learn, and to discuss the practical implications of theory on teaching and learning.
Effective Grading and Feedback
This session of the Teaching Large Classes Series is designed to identify strategies for effective grading and giving feedback, and to highlight methods of assessing collaborative learning.
Academic Honesty
Online Teaching
The Online Teaching Academy (formerly known as "Pathway 3") provides facilitated practice in effective online teaching practices including: establishing instructor and social presence, developing effective discussion prompts and summative assessments, assessing for learning, using technology effectively, supporting the whole student, and evaluating course quality.
Certification Course: Online Teaching Academy (OTA) 

This course will provide the tools and best practices for teaching in an online or hybrid environment. Topics include Canvas, instructor presence, social presence, and student success strategies. This self-paced course takes approximately 25 hours to complete. A stipend is given to those who complete the course. To register, please contact Joseph Peterson.
For experienced online instructors, an alternate certification path is available. Contact Seth Gurell for more information.
Service Learning
The Center for Social Impact provides a Service-Learning Faculty Fellowship that trains and supports faculty in designing or modifying courses to integrate service-learning into the course curriculum. Comprised of 6 online modules and 3 face-to-face sessions: Roles and Relevance, Reciprocity and Reflection, and Risk and Reporting. For more information, please contact Jonathan Westover.
Roles and Relevance
Roles
Service-learning consists of four distinct categories of participants with identifiable roles for each:  faculty, student, originating institution/entity, and agency/partner stakeholders providing service experience in the local community (Bringle & Hatcher, 1996; Felton & Clayton, 2010).  Each of these areas works with the others to complete the service-learning goals and objectives.
Relevance
The popularity of service-learning among academics is evident by the number of service-learning courses currently offered within hundreds of colleges and universities (Felten & Clayton, 2011).  This implementation of service-learning within college courses bears merit with regards to enhancing the learning experience above and beyond a traditional lecture-style course. 
Reciprocity and Reflection
Reciprocity
Reciprocity, within the context of service learning, means that all participants involved benefit from the experience, both student and stakeholder (Workman & Berry, 2010).  This signifies that the exchange between the student and stakeholder is not one-sided, and there is an added benefit for all parties involved (Workman & Berry, 2010).
Reflection
Almost all the bodies of literature expounding upon service-learning stress the integral piece that reflection provides in student learning (McEachern, 2006).  McClam, Diambra, Burton, Fuss, and Fudge (2008) also provides strong support for "the inclusion of reflection as a characteristic of service-learning" (p. 238). 
Risk and Reporting
Risk
The practice of service-learning comes with risk and therefore, legal ramifications for the faculty, the institution, students, and the organizations being served (Goldstein, 1990).  Due to the inherent risks and liabilities associated with service-learning offerings, the first step in establishing said offerings involves risk management (Mihalynuk & Seifer, 2003).
Reporting
Karayan and Gathercoal (2005) have argued that there is a problematic relationship between "teacher service-learning projects and assessment, evaluation, and reporting" (p. 79).  Furthermore, Muscott (2000) contends that there is a fundamental need for more rigorous service-learning project assessment and reporting.  Therefore, in addition to the R's of service-learning emphasized by other researchers, (Malone, 2010; MJCSL, 2001; Sigmon, 1979; Workman & Berry, 2010), reporting is another integral element of successful service-learning pedagogy and implementation.
Learning Circle: Service Learning
1pm | SC 105b
Dates: 8/29, 9/12, 9/26, 10/10, 10/24, 11/7, 11/21
Course Mentoring
Upon completion of the Service-learning Fellowship (all 6 online modules and 3 face-to-face meetings), faculty will then redesign and implement their new service-learning course. They can receive mentoring assistance during the course redesign and implementation process, or more experienced service-learning faculty can serve as a mentor for a semester to a new service-learning faculty member.
For more information, please contact Jonathan Westover at Jonathan.Westover@uvu.edu 
Scholarship and Impact
Faculty will work directly with Jonathan Westover and the Center for Social Impact on a semester or year-long service-learning-related research project (individually designed for each faculty member).
For more information, please contact Jonathan Westover at Jonathan.Westover@uvu.edu 
Writing Enriched
Developing Effective Writing Assignments
This first of three writing pedagogy workshops focuses on ways to develop writing assignments that emphasize your purpose for the writing task and its desired outcomes, write assignment descriptions that clearly communicate your expectations to students, and develop a rubric that guides students toward effective completion of the writing task.
Teaching In-Class Processes and Strategies
This second writing pedagogy workshop covers ways of effectively teaching writing in the classroom. It covers different strategies you could teach throughout the multiple stages of the writing process, making decisions about what instruction to prioritize, modeling, and effectively utilizing campus tutoring resources.
Responding to and Grading Student Writing
This final writing pedagogy workshop covers the differences between responding and grading as well as strategies for efficiently completing each task. It will cover ways of responding to students in the middle of their process without over-commenting, the kinds of responses that would lead to more effective revision from students, and how to speed up grading by focusing only on rubric requirements.