For the Love of Reading Digital Event - October 22-23, 2020
We are excited to announce some of our line up for this year!
Keynote presentations by:
Lesa Cline-Ransome and James Ransome - Yesterday,  Today, Tomorrow: Navigating Race, History, Truth and Hope in Books for Children

Best Books of 2020 - presented by some of our favorite librarians
Other sessions will include:
Digital Breakouts

At Home Make and Takes

Read-A-Longs

Online Resource Sharing 

Giveaways, Giveaways, Giveaways!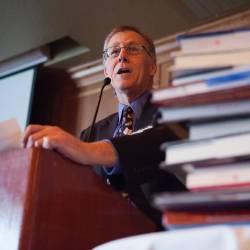 UVU's Forum on Engaged Reading gives educators, professionals, parents and leaders the opportunity to learn from local, state, and national experts who are award-winning authors and illustrators and who are leaders in literacy education and reading motivation. These experts join us to  inspire individuals
to foster a greater love for reading and learning.
People who attend the conference leave with motivation and inspiration to immediately apply innovative ideas and strategies that will open a world of determination, imagination and endless possibilities in the literacy lives of
young people. 
| Name | Organization |
| --- | --- |
| Alicia Rudd | Nebo School District |
| Benton Brown | UVU, Education |
| Cindy Roe | Provo City Library |
| Doug Gardner | UVU, Student Leadership & Success Studies |
| Gene Nelson | Provo City Library |
| Karen Cloward | UVU, Continuing Education |
| Katherine Paterson | UVU, Fulton Library |
| Katie Hunter | UVU, Marketing and Communications |
| Keri Measom | UVU, Education |
| Lorilynn Brandt | UVU, Education |
| Marilyn Kofford | Community Member |
| Jaime Sadleir | Alpine School District |
| Marni Sanft | UVU, Student Leadership & Success Studies |
| Nancy Peterson | UVU, Education |
| Randall Varney | UVU, Bookstore |
| Tom Smith | UVU, English |
| Tracy Sermon | UVU, Education |
| Wendy Oldroyd | UVU, Education |
MAKE A LIFE-CHANGING DIFFERENCE…
READ A DIFFERENCE!
For the Love of Reading Conference empowers participants to engage and motivate students as life-long readers. While concerned educators and legislators continue filling the gaps in essential literacy skills and resources, we are continually challenged by young readers who have not learned to love reading, and who, without your inspiration,  may never hold a book to their hearts and say, "I have to find another book like this one!" 
It takes as little as $250 to sponsor a dynamic presenter with answers and ideas we can take home with us and turn on one, or a whole room full of young readers.  
Your donation today means new programs, new presenters, new first-time attendees, and new inspiration for all of us who want to make a difference in children's reading lives. Will you or someone you know consider sponsoring a scholarship, a speaker, or a special event at our next conference?