We are not leaving any of the curriculum out by teaching a language, we are enhancing the curriculum by teaching it in multiple languages.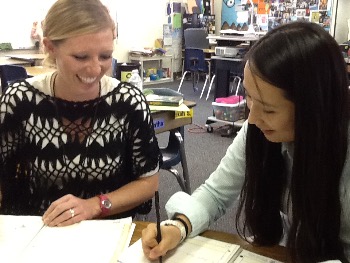 What to Expect in a Dual Immersion Program
Dual Immersion offers a rich bilingual and bicultural experience for young learners when their minds are developmentally best able to acquire a second language. Instruction is divided between two high quality, creative classrooms: one English and one Dual Immersion Language.
Students enjoy the advantage of two caring, qualified teachers. The dual language immersion teacher uses half of the school day to teach target language arts as well as math, social studies and science. The English-speaking teacher uses the other half of the day to teach English language arts, as well as reinforce other elements of the curriculum to help students succeed in district and statewide testing of the content areas (tests given in English). As in the English classroom, all content curriculum in the dual language classroom is guided by the Utah State Core Curriculum.
In class, the dual language immersion teacher speaks only in the immersion language and communicates using a range of engaging strategies including pictures, songs, games, body language, expressions, pantomime, drama, etc. Children at this age are adept at picking up language in meaningful contexts. Students are expected to use only the dual immersion language in this classroom after the first semester of first grade.
Utah's Dual Language Immersion programs seek to enroll students of varying backgrounds and all abilities. District applications are open to all students entering first grade (or kindergarten depending on the school district.)  Because dual language immersion programs are extremely popular, most districts use a lottery system for enrollment. Contact your local district for specific information about dual language immersion schools and application policies.  For information about which schools in Utah participate, visit https://www.schools.utah.gov/curr/dualimmersion.