We are committed to providing our students with excellence in paramedic education. Paramedics are true healthcare professionals; often working in settings such as primary healthcare, industry, and occupational medicine, in addition to their familiar emergency prehospital settings.

Our goal is to prepare competent entry-level Emergency Medical Technician-Paramedics in the cognitive (knowledge), psychomotor (skills), and affective (behavior) learning domains.

As the field of Emergency Medical Services and healthcare has rapidly evolved, so has the level of education. Our nationally accredited two-semester paramedic program is academically challenging and thus requires several pre-requisites.

Our Paramedic Certification and Bachelor of Science degree will afford our graduates a wide range of employment opportunities upon completion of the program.
Students will earn a total of 31 credits for the two semester program. Credit can be applied towards an Emergency Services - Firefighter/Emergency Care Emphasis, A.A.S. or a Emergency Services Administration - Emergency Care Emphasis, B.S. Contact and advisor for further details.
Courses and lab fees are approximately $900 (subject to change) total for both semesters.
The following fees are not covered by the tuition and fees for Utah Valley University and are not covered in the paramedic program student fees.
Uniform required for the program:
EMS gray t-shirt- $10

EMS gray intern polo

 $25

Blue work or ems pants (i.e. Dickies)

Black boots (i.e. jump boots, station boots)
Scrubs:
Top: forest green

Bottom: black
National Registry test $125 -- Upon receiving recommendation for National Registry Testing, the fee is due. Learn more at www.nremt.org.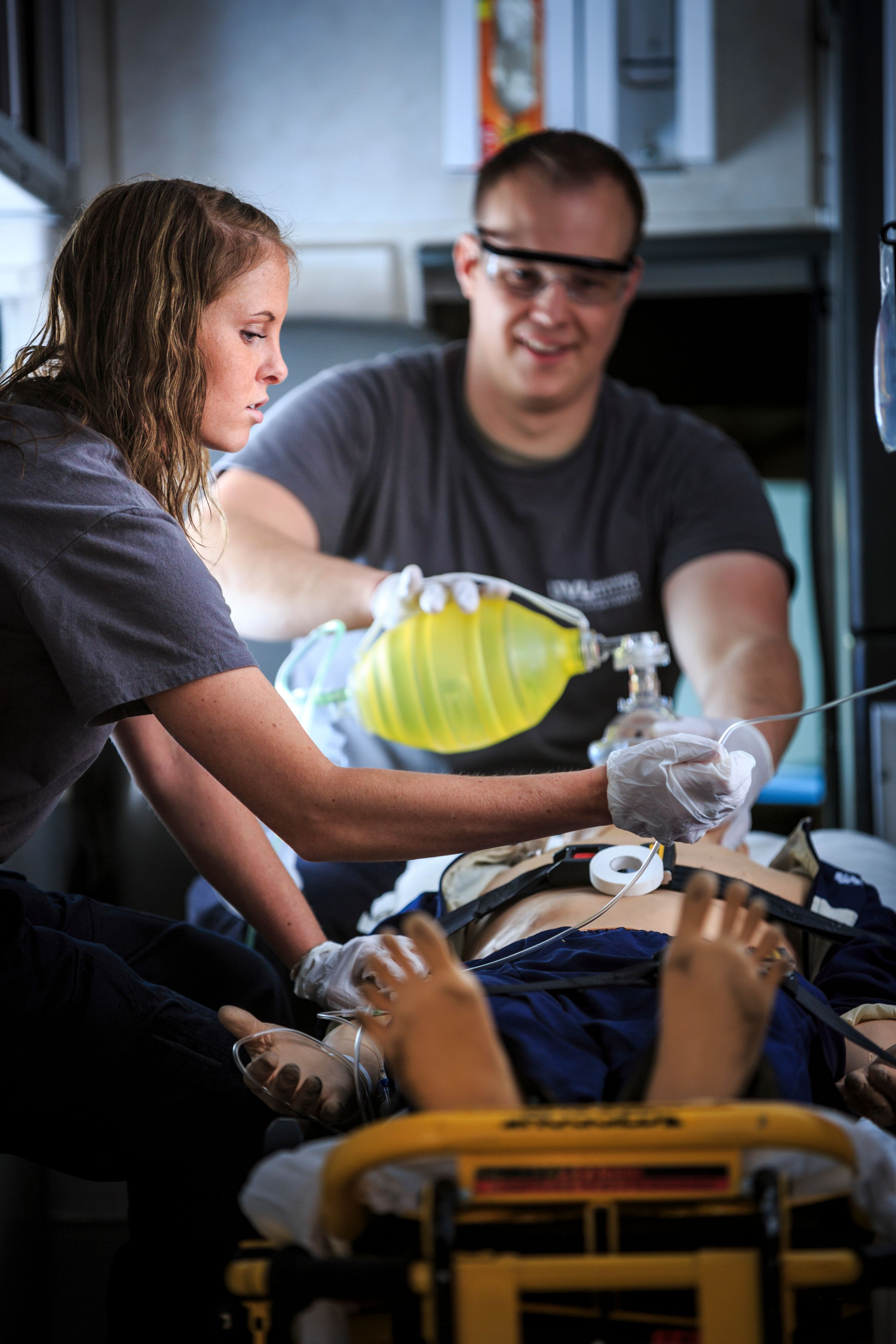 Alumni
The paramedic profession is a prestigious and fulfilling career choice. The paramedic scope of practice provides for some of the most advanced diagnostic and treatment skills in the pre-hospital environment. Learn more about the experiences and careers of real paramedics who have graduated from our program.
The Next Level of Medicine
UVU's paramedic program is leading students through an unconventional path toward medical school
BLOG
When Utah Valley University alumna Summer Grace goes to work as an emergency medicine physician, she says she's ready for anything to roll in.

"When I go to work, I don't know what I'm going to see that day; it's a mystery," Grace says. "It keeps me on the edge of my seat and requires that I stay current on my medical knowledge."

From the time she was 14 years old, Grace knew she wanted to be a physician. After attending UVU's Firefighter Recruit Candidate Academy, she enrolled in the first paramedic class UVU offered in 2000. Grace was the first and only woman in the class.

"I have a lot of pride in the fact that I was in the very first class," she says.

Grace says after working as a paramedic for several years, her experience with different illnesses and emergency scenarios made her interested in becoming an emergency medicine physician.

"Being a paramedic was great because it gave me a foundation in medicine," Grace says. "It really helped in medical school because of my background."