Dental Hygiene
College of health and public service
COVID-19 Modified Operations
Call the Dental Hygiene office Mon-Friday 9:00a - 4:00p with questions regarding the program at 801-863-7536. Call the Dental Hygiene Clinic to schedule a cleaning appointment at 801-863-7608.

Due to the COVID-19 virus, we will only be accepting patients who do not have flu-like symptoms, and patients under 75. Patients 76 and older will be accepted if they have had 2 covid vaccinations.
For more information, visit the Return to Campus website.
A New Level of Professionalism
Experience an exceptional learning environment that's personal, collaborative and engaged.
Utah Valley University's Dental Hygiene graduates are always in demand.
How to Apply
Very reputable program with experienced mentors at an affordable price

Success with 99.9% board pass rate

Get a high paying job right out of school
Clinic Appointments
Easy and affordable

Provides instructional experience for students

Effective and high-quality dental care for any age patients
Community Outreach
UVU students provide oral care for the community in many different facilities

Contact us if you need our volunteer hygiene services at your facility
Why UVU?
Great reputation in the dental community. Thanks to our highly qualified staff and individualized instruction, our students have an astounding 99.9% board pass rate. UVU has a reputation for training smart and talented hygienists, and most graduates find a high-paying job right away.
Associates and online bachelor's degree. We offer two degrees: an Associate in Applied Science (AAS) in Dental Hygiene, and a Bachelor of Science completion degree for those who already have their associate's in dental hygiene (or who are currently in an associate dental hygiene program.) This degree completion program can be done exclusively online. This means you can conveniently balance 2-3 days of working in private practice with family time and any other obligations.
Open enrollment. No matter where you are in life - whether you're fresh out of high school and kickstarting your career, a previous graduate seeking change, or a mother looking to come back and learn a new trade, we have what you need.
Community Involvement
Our clinic serves 2,000+ patients every year. We are committed to improving the community by providing high quality, affordable dental hygiene care to persons of any age or income level. We work with groups that do not have dental insurance nor the money for expensive dental care, but have a great need. Not only does this benefit those we serve, but the students themselves gain knowledge, experience, and compassion as they reach out to those less fortunate.
Online Bachelor's Degree
Current dental hygiene professionals and UVU Dental Hygiene students can earn a Bachelor's of Science Degree online and on their own time in just 24 months. This online program allows working students the flexibility needed to complete their degree. Through this interdisciplinary program, students can gain specialized skills in education, public health, or business which complement each student's already well-developed core dental hygiene skills. Students who earn a B.S. in Dental Hygiene can find careers in education, work for product companies, health administration, and some student go on to earn a Master's Degree.
Board pass rate
Graduates of UVU's Dental Hygiene Program are some of the most prepared in the area, with a 99.9 percent board pass-rate on national and regional exams.
Median full-time salary 70K*
*Salary number will vary depending on where you are employed. This is a median number from the Bureau of Labor Statistics.
Student-to-faculty ratio
Faculty/student ratio is very low in clinic, providing students with ample opportunity for questions and personal interaction with faculty.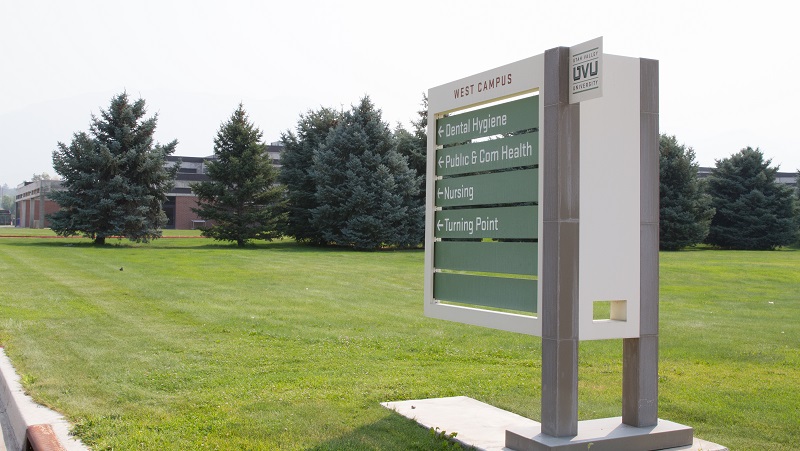 Need a Dental Appointment?
The Dental Hygiene Clinic offers services to the public, functioning as both a community and teaching resource. Our clinic provides affordable, preventative dental hygiene services for all ages. Our focused students and experienced faculty manage the cutting-edge clinic with flexible hours to fit your schedule.
Check out our pricing and available services and book an appointment today.
Will Dental Hygiene meet the educational requirements for the professional credential in the state or US territory you might choose to live during or after completing your UVU degree? Visit the UVU Professional Licensure website to learn more!